Studio Photography
Organising family photography is hard, right? You find a date, the perfect location, pick a time for the family to meet, and then it rains. But one of the benefits of having your family photograph in the studio is it doesn't matter what the weather is doing.
Your family photos in the studio can also take place any time of the day. Which takes some of the pain out of organising family members. And let's face it, family photos don't happen nearly enough, do they? 
How long since you had a family photo? 
Photos with family tend to be put on the back burner. Caring for kids and running a house can make time just fly by and before you know it, it's been years since your last family photo.
Update your photos each year with studio photography
But with studio photography, you can make it a yearly occurrence. You can make it on your birthday, or anniversary so you have something to look back on. And as your kids and family are ever-changing, I recommend having a family photo in the studio every 1-2 years.
Or if you've had a significant milestone like a new baby or your kids have a milestone birthday.
At Kristy's Photography Studio, the photo experience isn't just about the session itself. It's about everything leading up to it, and what happens afterwards.
The whole process is an enjoyable one.
Keep reading below to find out what you should expect from your family photoshoot at my photography studio.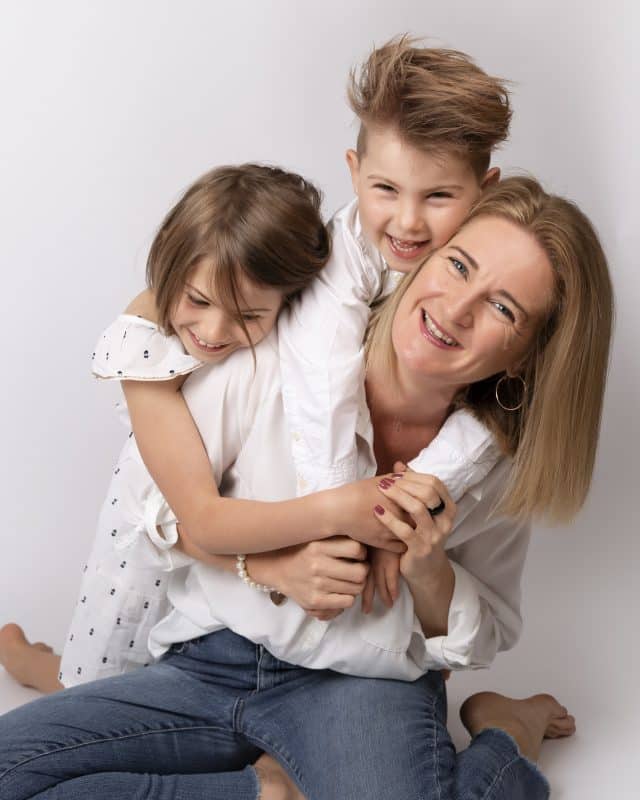 In-studio pre-session consultation
Before anything happens, let's get to know each other! The in-studio pre-session consultation is when you can make inquiries about pricing, scheduling, and have any questions answered. We will talk about your vision for the images to clarify your ideas. We will also go through colours, products, and props to get the specifics of how exactly you want your photos to look.  I prefer it if you came in-studio, as it gives you and your children a chance to meet me and get comfortable with the space. We can also have a zoom consultation if this suits better. Don't worry, there is no commitment until you book a session. My cancellation policy is very relaxed so you don't need to stress if your plans change.
Once you've settled on a package and have booked a session, you can sit back, relax, and let me handle the technical side of things. Please expect a call a day or so before your session to run over the plan. We'll go through everything we talked about during the consultation.  If you have any last-minute minor adjustments, this would be the time to inform me. The pre-session phone call lets me prepare the perfect set-up for you. I'll give you some reminders on how to prepare so you'll be ready as well.
Family Photos in the photography studio
The one thing to expect from your session is fun! You and your family will have my undivided attention the entire time.
I want to make this an experience you'll enjoy. That said, you might feel a bit nervous and your kids might be a little camera-shy, especially if it's your first time with studio photography.
But I'll guide you and make everyone comfortable and confident in front of the camera.
My advice…don't overthink it. The more relaxed you feel the more genuine the images will look.
I don't watch the clock during your session however, studio photography sessions generally run for about 60 minutes.
Please bring any clothes and props that we discussed in our pre-session consultation.
You should also bring along toys and books to keep children entertained.
I do have a large lounge room equipped with Netflix and resident pet bunnies in the studio.
You're welcome to eat in my lounge room, so bring a snack for you and your family as well.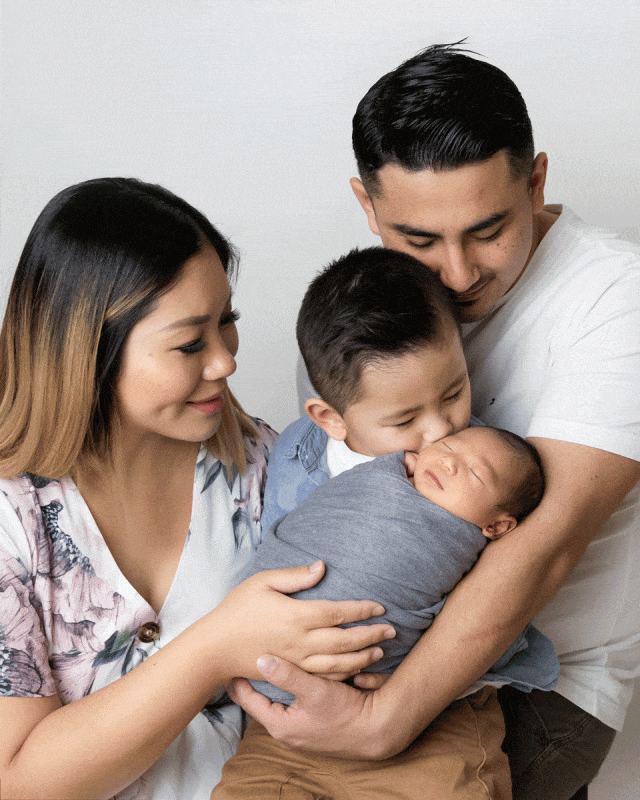 Design and Ordering Appointment
This is when you see your final gallery from your family session on the big screen.
We go through and make all final selections for albums and wall art packages.
During the design and ordering appointment, please have all decision-makers present.
If possible, leave the kids at home – this will not be as exciting for them as it is for you.
Collection of Your Products from the studio
It may take several weeks before your products are delivered to the studio, but rest assured that I will contact you once everything is ready for you to pick up.
My goal is your satisfaction. And I can't wait to deliver the best possible final products to you. 
If you're from the Sydney area and are interested in this fun and memorable experience, contact me
I would love to meet you and be the one capturing this moment for you and your family. I offer a variety of packages to suit every family, and my studio photography sessions are relaxed and stress-free.