A Christening in Sydney is such an incredibly special ceremony. Family members and loved ones come together to mark the beginning of a child's upbringing in the Christian faith. Following the service, many families host a party to celebrate this milestone which has become as significant as a child's first birthday. 
Many parents want this celebration to be memorable and go all out with party decorations, theming, catering and entertainment.
 The aim? To have a picture-perfect day so when the child is grown up and looking back through photographs, they will see how warmly they were welcomed into this world.
Some mums and dads even precede the event with a baby photoshoot to have pictures displayed at the venue or on invitations. If you plan to do the same, you can always trust me to capture outstanding photographs of your baby. At Kristy's Studio, every photoshoot is safe for your baby as well as fun and relaxing for parents!
Here is a round up of our 10 favourite christening trends that can serve as inspirations when planning your child's christening in Sydney.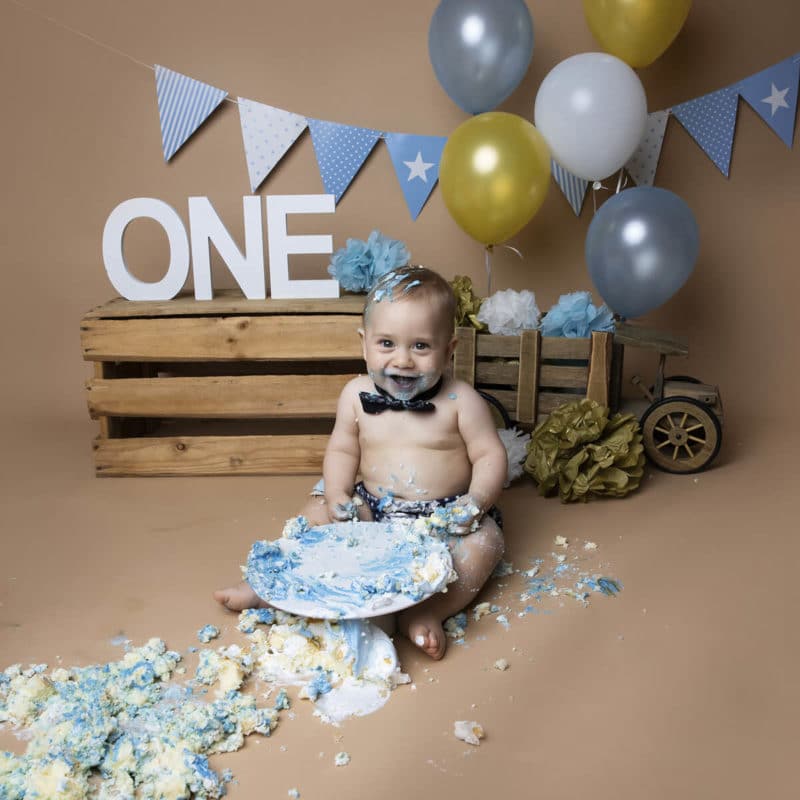 A Themed Christening in Sydney
Most celebrations are themed, and christenings are no exemption! A common choice of theme for male christenings is rustic along with blue, white, or silver decor. Some parents even go for cowboy or animal themes, mainly an elephant or a horse. For a girl, the usual motif is pastel, dominated by soft pinks, purples, or golds. Often, characters displayed are those of unicorns and bunnies. If you want to go for a neutral theme, angels and hot air balloons are great ideas, too!
Matching Attires with Mum and/or Dad at the Christening in Sydney
Since christenings are familial events, most parents coordinated outfits with their baby to look good in photographs. You don't necessarily need to have identical clothing, choosing a colour theme will be sufficient. 
A Dessert Station
Most commonly, one of the highlights of a christening in Sydney is a colour-themed dessert station. This is easy to set up and to match with the theme. Just add corresponding elements here and there, then voila: a dessert bar guests cannot say no to! Popular on the menu are cookies, brownies, cake bars, and tarts.
A Doughnut Wall
The doughnut wall has become a popular alternative to cakes since the latter can be difficult to divide into equal portions. Plus, having donuts gives you the flexibility with flavourings, hence, guests can have a variety of choices. In contrast to getting a piece of cake, taking a doughnut does not require a server or the use of a serving utensil. Such practice limits physical contact and sharing with others, which promotes compliance with safety protocols against the current pandemic.
Catering to Kids
Relatives and colleagues alike may bring their little tykes along. Hence, it is best to ensure that children enjoy the event and that the menu includes food they can munch on. Also, having kid-friendly activities such as drawing and colouring will ensure that they are entertained.
A Photobooth
It is undeniable that photo booths have become a staple in every event. Without fail, these become a source of entertainment for guests of all ages since photo booths provide a place and an opportunity for them to gather and socialise. The photographs produced may serve as a souvenir, too. You can also include a template, displaying your child's image, name, or initials, on every print. If you want to keep a guest book, you can always ask the photo booth provider to duplicate copies of pictures for you!
Skipping the Balloons
At this time when climate change has become apparent, people are switching to environment-friendly practices. Since balloons are made of plastic that harms the environment, its use is discouraged. Instead of using balloons, take advantage of nature's gifts by getting flower arrangements. You can also go for paper-based and more creative options such as paper lanterns and origami.
Personalised Giveaways and/or Favours
Giveaways, mostly in the form of a mug, candle, or figurine, are given to guests as a token of gratitude for taking part in the celebration. As a remembrance, these are often personalised to signify the event.
Handwritten Messages for the Little One at the Christening in Sydney
Writing wishes for and dedication to a child is a great way to express love for them at the christening in Sydney. Provide pens and paper to guests so they can write down messages for your bundle of joy. If you want to add a twist during leave a wishing well where guests can drop a letter in. If you want to get even more creative with these, you can assemble an envelope mobile by attaching one end of cords on the ceiling, then have guests tie their letters to strings. Afterwards, you can keep and compile the messages on a scrapbook, which your child can browse and read in the future!
A Personalised Keepsake Box
Some parents keep a bespoke box for their child to store precious mementos of the special event. This may contain the hairbrush, towel, and candles used for bub during their christening. Personalisation may include having the little one's name or mum and dad's message for them printed or engraved inside or outside the box.
You can personalise keepsake boxes, souvenirs, and photo booth print templates with a picture of your mini-me. If you are looking for a professional baby photographer in Sydney, your search is over. With 20 years of newborn, baby, and family photography experience, I am trained not just in handling the tiniest of babies with care but also making them smile at the perfect moment as well. Visit my studio in Winston Hills for a stress-free Christening Sydney photoshoot that you and your baby will surely enjoy!